InCommunity – Sustainable block heating
Ordinarily, low-temperature networks are not able to be a secure supply of heat on winter peaks in housing due for renovation. These typically need a high-temperature heating system. Our smart valve hardware and algorithms enable collective block heating on low-temperature networks under these circumstances. This allows housing corporations to eliminate their dependence on gas boilers. In addition, our products permit housing corporations to reach upcoming energy efficiency regulatory requirements.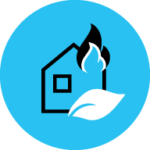 Sustainable living space
Powered by no-hassle algorithms and smart hardware, tenants can enjoy zero-carbon comfort. Our self-optimising product drives the numerous algorithmic heat setting changes on apartment and building level that would be impractical otherwise – who would want to wake up at 4 in the morning to open a valve at the right time?
Tenants are also enabled to save money and increase comfort to their preferred custom settings, as we offer applications and interfaces that enable end-users to control consumption.
City heating
Our hybrid solution enables us to serve customers in areas that are traditionally not part of a district heating supply area. Through continuous machine learning optimisation processes, we ensure that end-users always have the most cost-effective energy source.
In addition, our solution to combine traditional district heating with low-temperature networks lowers utility fuel costs whilst liberating low-value capacity for network expansion.